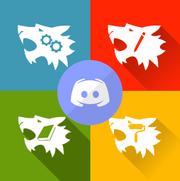 The Official Werewolf Online Discord Server has some official and unofficial Side Servers. An unofficial Side Server becomes official when the developper is owner of the server and there is staff of the official server in charge of it.[1]
Official Side Servers
Designers Club

The Designers Club (official) is where you can share ideas with fellow designers and make some cool designs that have a chance of getting into the game.[2]
Testers Club
The Testers Club (official) is probably the most popular Side Server. They are testing myths and other unknown fact about the Werewolf Online. There you can get the Bug Sniffer Badge.[3]
Unofficial Side Servers
Info Server

In the Info Server (unofficial) you can get new and informations about everything you need to start creating.[4]
They help Role and Lore Writers, Designers and Musicians to create better.
Lore Team

The Lore Team (unofficial) writes storylines, lores and backstories for the Werewolf Online roles.
If a lore you wrote got enough upvotes on the Lore Team, you'll have a chance to get it into the game.[5]
Writers Club

At the Writers Club (unofficial) they help you to improve your skills in creating new awesome roles for Werewolf Online. If the role you wrote gets enough upvotes on the Writers Club, you'll have a chance to get it into the vote channel on the official server.[6]
Giveaway Server
At Werewolf Online giveaway they host daily various giveaways and do lots of fun events. Join them to chill, relax and hopefully win some prizes![7]
References
Community content is available under
CC-BY-SA
unless otherwise noted.