The Main Menu is the opening page of Werewolf Online.[1]
Parts of the Main Menu page
It is a white marked button above four non-marked buttons. That button directs to Game Mode section. There are 5 game modes: Quick Game, Play with Friends, Ranked Mode, Custom Games and Sandbox Mode.
Wheel Of Fortune is in the top left hand corner of the Main Menu. If you watch an ad then you can spin for a rose, coins or an item.
The menu that tracks the player's Battle Pass progress appears on the main menu.
A shop menu that allows players to buy a special outfit + loot box bundle.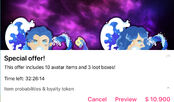 The menu that opens up the player's Daily Reward progress.
Friends
The menu that lists the player's friends can be opened in the Main Menu.
This opens the settings. It is next to the "Friends" menu.
The Clans options (including searching for clans, clan chat and clan quests) can be found in the bottom right corner of the Main Menu.
Info
This menu is right above the clan icons. Here you can find FAQ, tutorial, rules and contacts.
References
Community content is available under
CC-BY-SA
unless otherwise noted.