| | |
| --- | --- |
| | This article or section involves information that players add to the game. While it is not official canon, it can aid users in finding more information about WWO. |
Also go to abbreviations
For Villagers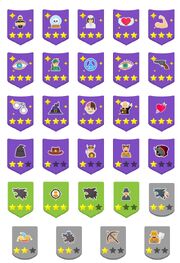 For seer / aura seer / detective - I saw / checked (number) last night: I looked at (number) last night: - You are lying / - Liar / I'm real (role), (number) role, you are not (role) / I'm real (role) if someone say he is (role), kill him, if somebody fakes your role.
- Really, I don't believe you / I suspect (number) / (number) vote (number) last day so I think (number) bad: Use when you think someone bad.
- No vote, fool ig, hh ig, don't random: Use when trying to prevent losses and you dont want to lynch.
- Info: Ask information from seer / aura.
- I claimed first day/ last day:  Use when you already claimed your role.
- Anybody else claim (role)?: Ask when someone takes the role but is suspected and to find the real role.
- Paci reveal/don't reveal: Use to lead paci due to /or dont reveal somebody you wanna lynch.
- I'm seer app, protect me: Use for seer app when you can become a seer.
For Werewolves
- Kill others, (role, number) cannot be killed, random: Use for ww, when Wolf Seer checks Arsonist, Bomber, Serial Killer, or Corruptor.
- I tagged (number): when you're junior ww and want to tell your team.
- We need to find (solo role): to ask your team to try and find the killing/solo role so the wolves can win.
For all teams
- Info: Ask from information from ww seer/seer/aura seer/detective.
- Role call: ask others to claim their roles.
Community content is available under
CC-BY-SA
unless otherwise noted.