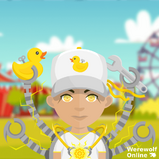 "Create unlimited games, select which roles appear and host private game parties!" ― In-game description
Custom games are one of the game modes in Werewolf Online.[1]
Details
Custom games must be bought. They cost 2000 gold or $5.99, and buying them unlocks custom games, a special avatar item and gives the player 25 roses. It also gives the player several roles to make a custom game with. If the player wants other roles they must buy them separately.
Base roles
Villager, Gunner, Doctor, Bodyguard, Seer, Jailer, Priest, Aura Seer, Medium, Werewolf, Alpha Werewolf, Wolf Seer, Wolf Shaman, Fool, Headhunter, Serial Killer
Additional roles can be bought for roses or coins. Here are the roles and prices.
Gameplay
Players who own custom games can create a game with any of the roles they have. Any other player can join their game. The host can also change the time length for night, day and voting, from 1 second to 2 minutes.
References
Community content is available under
CC-BY-SA
unless otherwise noted.